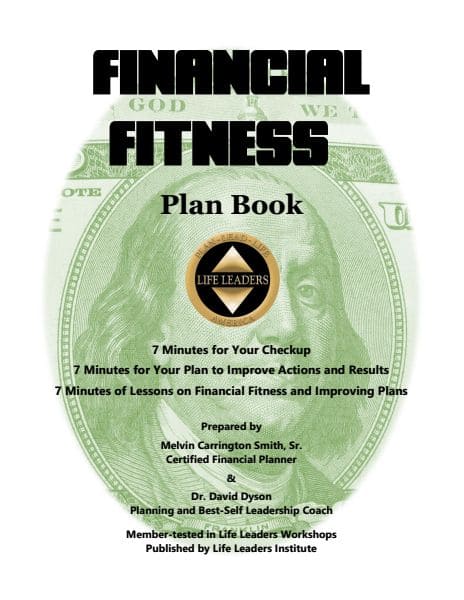 Do your goals or resolutions include wanting to improve your financial life–one of the 7 Areas of Life that adds freedom for most other areas or holds us back?
Life Leaders, led by Melvin Carrington Smith and David Dyson, developed an eight-page workbook for financial planning workshops at the Alabama Money Expo May 20. Or, you can review online and print to use.
The planbook is a compressed eight pages and includes two main sheets to use–a checkup and a plan sheet to write what you plan to do to improve.
When people set resolutions, typically at new year, one of the "Top 3" focuses on Financial Life. Spring is for many "tax time" and a good chance to assess plans and results, plus improve if you envision better results such as security and freedom.
We created the Financial Fitness Planbook to provide a brief, easy-to-use, and high impact tool you can print from the web site to use on your own or, better, learn to use at a seminar and/or in coaching. We looked at a few national resources and asked a few financial coaches what questions they ask and advice they give, considered the best we found, and edited our work to provide you and others with a compressed tool you can use and share with others.
Melvin has a calling to help people plan, assess, and improve their financial lives. Life Leaders is helping him with his "voice" and more people to get tools to use. David
Contents
It's only eight pages and focuses on two tools you can use:
Melvin's Top 25 question "checkup" he has used for years with financial planning clients has been improved and a page of intro has been added
Plan sheet I outlined to provide you with a template to answer key questions that should improve your insight, plan, and action.
Title Page
Contents
Notes page for the Seminar
Coaching for your Financial Fitness Check up
Your Financial Fitness Check up
Coaching for improving your Financial Fitness Plan
Your Financial Fitness and Freedom Plan
About the Authors and Life Leaders Institute
The Financial Fitness Checkup takes less than seven minutes to complete, but if it helps you identify just one gap in your financial well-being AND you can TAKE ACTION to correct that gap, it may be a valuable, even crucial, 7 minutes.  I hope you complete the checkup and correct gaps to enrich your finances and your overall well-being. When helping people as a financial consultant, I generally find most individuals are in one of three stages of financial fitness.

The first stage is the Survival Stage in which an individual is still getting his or her financial life in order.  Many in this stage have too much debt, little or no savings, and have not taken action to protect the assets they do have.

The second stage is the Fitness Stage. By actions they have taken, they have control of their debts, are making significant investment in retirement and other savings, and have taken many of the steps to get their financial house in order.  This stage is critical because it allows an individual to move toward the most important stage of financial well-being, which is the Financial Freedom Stage.

Financial Freedom not only allows you to take control of your finances, but also allows you more time freedom to take actions on what is most important to your family, community, and you.  This could mean you could take your career in a different direction including getting a more satisfying job, go into a completely new field, become an entrepreneur, or work from home.  – Melvin
Inspiration for this Planbook
Melvin presented his check up at a Life Leaders seminar. People responded, the process helped them, started asking questions, discussing options, hearing what's working for others, and taking notes on their plans for what they could do to learn more and take new or better action. Because Financial is one of the 7 Areas of Life that most people need or want to improve, we invested in this tool for you. We welcome ideas and requests to help more people plan and lead their lives. – David
Dr. David Dyson
Action Options
Professionalism Under Stress: Best Practices for a True Professional
Patriotism in Action: patriotic guide including how Veterans Day started
Financial Fitness Checkup and Plan Workbook