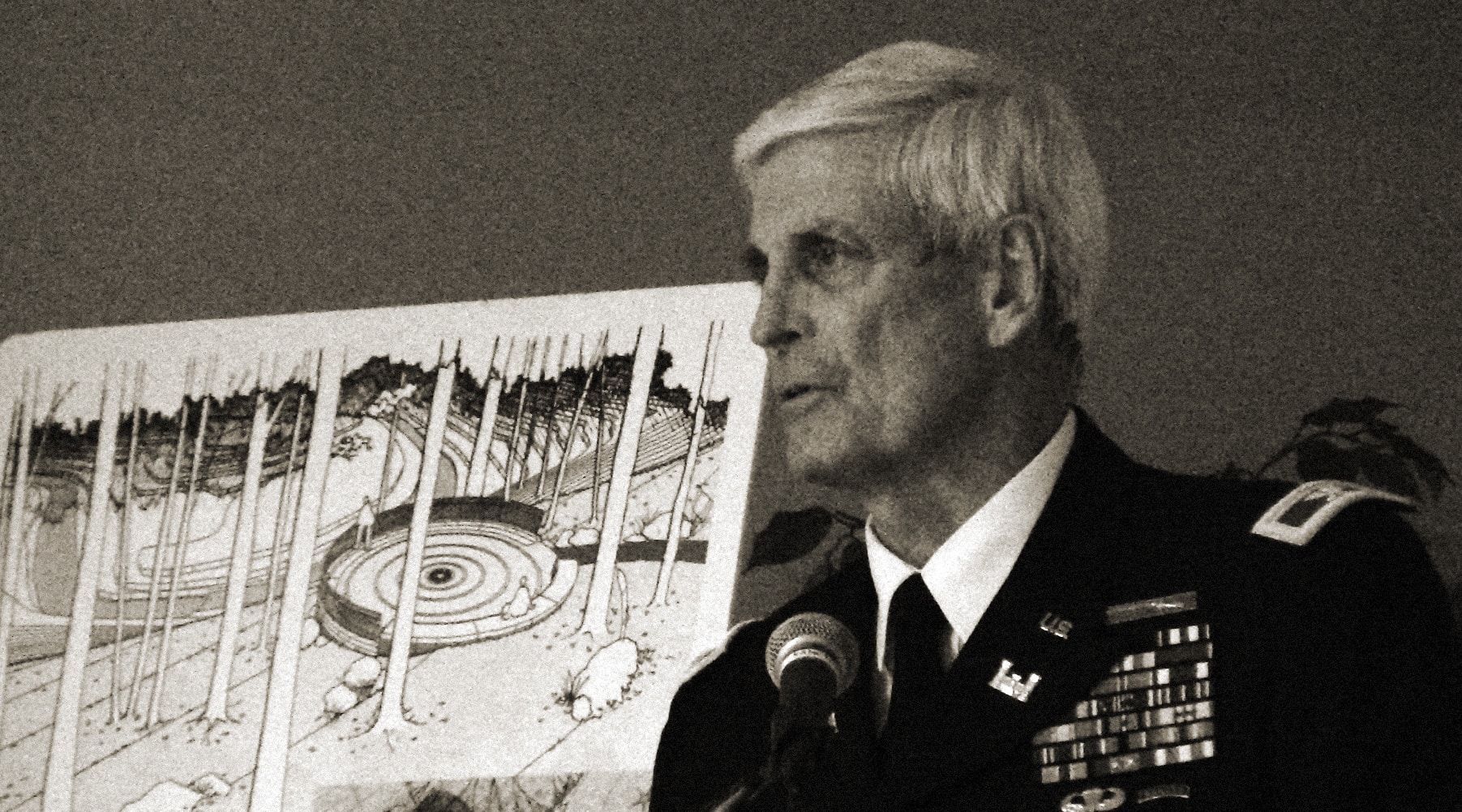 By Dr. David Dyson citing and remembering lessons from Col. Stretch Dunn
Did I make someone a hero today?
Would our Lord say, "well done my good and faithful servant…?"
Would my mama be proud?
Col. Stretch Dunn (USA Retired) asked himself these three questions at the end of the day to help make sure he stayed on the right path. He spoke of them when mentoring others and at annual Life Leaders seminars designed to help people improve plans for life. He asked his wife, Joan, to help him be accountable to "be, know, and do" as his best-self.
Most years for two decades during the Life Leaders Plan for Life Seminar he shared his updated page of goals for the 7 Areas of Life so others might benefit from this annual ritual and to help "hold him accountable" privately for what he stated publicly. For actions he considered extra special, such as some of those that led him toward his three questions, he called them "rituals" because they took on even more significance than "habits."
Joan helped me confirm the updated list of questions he was using at the end of his life. He had edited the list over time, adding the second question. He also believed in a concept called "The Harder Right" that he used on his list a decade or so earlier.
After the "911" attacks on America, when Stretch and I were writing Professionalism Under Stress (about common denominators of true professionalism in college, combat, corporate life…), he told me of "The Harder Right" and its roots for him at West Point.
The core message: take the ethical action even when our instincts tell us this option will be "harder" and we may "lose" short-term.
When we do the harder right, such as admit a mistake or take ownership for paying restitution even when we could "get away with it" we usually benefit instead of lose. Our integrity gets stronger and our trust with others gets stronger because they see us tell the truth and take fair action even when it's "harder" to do so. Many citizens and corporations, even leaders in the public office tend to "distance themselves" or "protect themselves" from bad results. In case studies on major disasters, companies and individual leaders who admit the problems and take action to fix the problems with accountability usually lose profits short-term as they pay restitution though long-term gain market share and trust in the marketplace resulting in positive gains.
The United States Military Academy (West Point) believes in "The Harder Right" and include the term in the "Cadet Prayer." This takes a stand and increases the chances of internalizing ethical action by making it a habit to cite the concept as part of the prayer.
West Point Cadet Prayer:
"Make us to choose the harder right instead of the easier wrong"
Why Questions of Assessment Help
Why should we assess our actions? A principle of leadership and management is, "what gets measured tends to gets repeated." At the very least, if we have a target and internalize it we are more likely to aim and have a better chance of hitting "bulls eye." Another principle of management science is to identify and do those practices that "increase probability " for us to fulfill the mission.
Stretch wrote, reviewed, stated intent, and updated regularly his Goals for the 7 Areas of Life, his Big 3 Questions, and his Mission and Vision for Marriage with Joan. Because of these rituals, he was more likely to aim at and succeed at making others "heroes," being a "good and faithful servant," and making his "mama proud."
Motivating question that may influence whether a person will take action on this article: Are goals like these or the people who would be affected important enough to you to make it worth a few minutes of your time daily to write a vision or questions and assess if you took action? 
One more step we can take to make plans, actions, and results better
Plan how we can answer the questions positively. If we are going to answer important questions, we can do better if we outline plans for our time and action aimed at creating positive answers. For each question, outline a goal and action to create desired results.
For example:
Help someone: one idea is to keep on your calendar a daily appointment with yourself to call someone and offer to help. If like Stretch, you can ask, "How can I make you a hero?" or "What can I do for you, Sir?" Or, you can just do something for someone you believe is needed. [It's good to confirm what we think adds values is actually valued by the person important to us.] Your action could mean either a one minute call or a longer block of time to add value for them by "lightening their load" through service or "encouraging their perseverance" on one of their resolutions.
Be a good and faithful servant: part of the core of "faithful" is to identify and fulfill our callings, gifts, and talents. When we Pray. Listen. Act. Now. (PLAN) on our callings as well as our choices, we become better stewards of our faith.
Do the harder right: for many, increased awareness of instincts when you feel pressure of possible embarrassment or other loss and how you believe your best-self should respond will improve behavior. Challenging "why" you do certain things can help you stop doing bad habits that may have been taught to you by well-intentioned adults or you may have adopted as habits from peers when immature. If never challenged, bad habits can live on even for well-intentioned adults. When you have a seemingly tough choice to make, imagining a special person "watching you" can help you do the harder right and form good habits until your personal integrity gets strong enough to guide you automatically.
Make your mother (or someone else important) proud of you: as we plan intentions and assess actions, a partner or board can often inspire us to improve ourselves more so than the motivation for personal gain. In addition to parents, people often choose accountability partners, children, or other family members as sources of motivation.
Principles and Best Practices Supporting these Suggestions
My best practices for Best-Self Leadership 1-3, tested and taught since 1987:
Lead Your Life
Plan for Life
Have an Impact. 
Dr. Stephen Covey's Habits 1-3 in The 7 Habits of Highly Effective People:
"Be Proactive"
"Begin with the end in mind"
"First Things First."
Both sets of practices and habits suggest we can do better if we decide to take action, envision desired results, let that vision inspire and guide goals and actions, and assess if we are having impact with priorities.
Personal Application Example
I took inspiration from Stretch, used his list, and adapted my own. I share it here in case two examples may serve you better:
Did I help a person and an animal live better today?
Did I improve my ability and attitude to help others?
Did I Pray. Listen. Act. Now. (PLAN) for my callings and choices?
Did I improve my plan for life?
Did I live my priorities?
Did I do my best joyously?
Did I make my family proud?
Three questions are easier to internalize. Or, after you develop your seven you could summarize into your Big 3 to remember and share with others more readily.
Have an Impact
Stretch's upbringing with parents Lieutenant General Carroll Dunn (USA Retired) and Retha Dunn, education at the U.S. Military Academy (West Point '66), and training in the US Army influenced him greatly. He intentionally planned for and took action to live the core teachings of his parents and honor the "code" of West Point. He invited his wife, Joan, to give feedback on his stated "intent" and be an accountability partner for his actions.  If we do these things, we will come closer to "walking our talk."
Question for those who want to walk our talk: are we planning for life, leading our lives, and living our priorities focused on the people and principles we say are most important?
Thanks Stretch for helping people to adopt ways to lead our lives closer to our best-selves.
_______
Stretch died unexpectedly this 2017. We honor our friendship and lessons learned with him by sharing positive principles and practices with you and those important to you. We invite you to subscribe or support if you value this article or the 7 Callings we serve.
To learn more of Stretch Dunn
To learn more of Life Leaders
To read more articles like this one or follow: DrDavidDyson.com
To recommend or request: David@LifeLeadersInstitute.org